5 MIN READ
Recently, there have been some great examples on how the gap between GIS and BIM has been bridged, which in turn have revealed remarkable advantages and insights.
In particular, closer integration between these technologies – as announced by Esri and Autodesk – has seen optimised designs, accelerated project approvals, reduced costs, smarter cities, and more resilient infrastructure. 
This integration of GIS and BIM (sometimes referred to as GeoBIM) is transforming how the built environment industry is visualised and planned.
Even at its early stages, one such project has leveraged this relationship to great success: The Punggol Digital District (PDD), a landmark project between Esri Singapore and JTC – Singapore's lead agency in the planning, promotion, and development of a dynamic industrial landscape.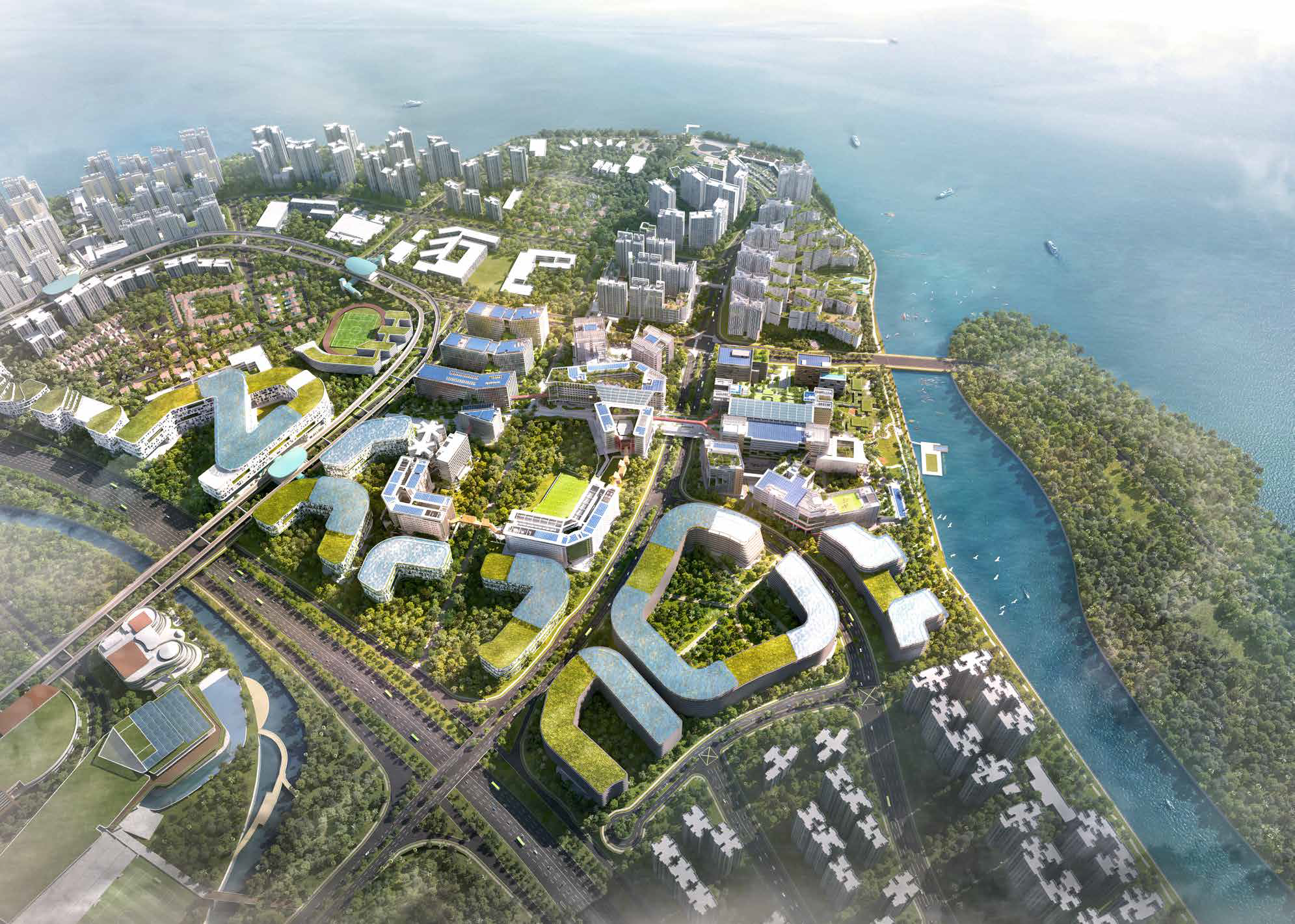 Housing and clustering key growth sectors of the digital economy such as cybersecurity and digital technology, PDD serves as a test-bed environment that will enable businesses and communities to thrive at the forefront of the country's Smart Nation vision.
To better explain how GeoBIM benefits any built environment project, we've highlighted the following learnings from the different stages in PDD's digital building lifecycle.
1.    Delivers benefits across the digital project lifecycle
By leveraging on Esri's ArcGIS solution during the initial planning stages, JTC's planners could analyse different designs of PDD through parametric modelling. The objective? To maximise the land use potential of each allocated parcel and meet the desired land use mix.
The result is a 3D model of the structure – known as a massing block – that may be overlaid against various data sources and types on a single map. It is then visualised against surrounding geospatial data to gauge the design impact on the existing environment and landscape. This process can be applied across various stages of the building model development, from massing block to a detailed engineering BIM.
To monitor and track the site's progress, drones took scans which could also be geo-referenced on ArcGIS to ensure that the construction is aligned with design plans and timeline. 
And even before the project's completion, the right combination of tenants to be brought in can be identified. Location-based data provides insights into a project's business needs by analysing consumer patterns, demographics, and existing services and amenities to profile a new site.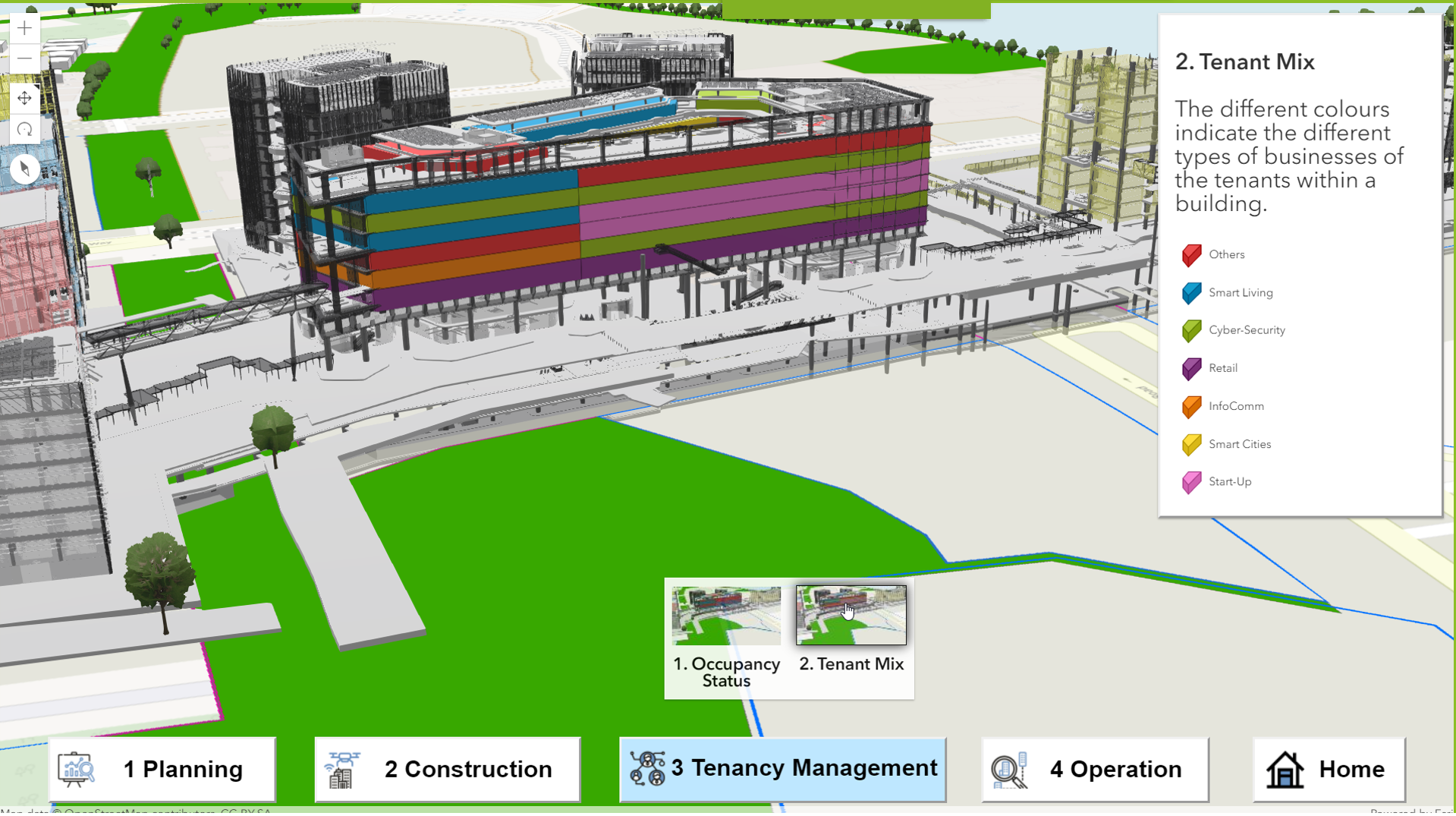 2.    Increases transparency to manage expectations more effectively
Through an accurate and geographically-relevant digital design of a proposed project, this data can be shared to provide absolute clarity on its progress and development. Expectations can be managed and feedback obtained – not just from the stakeholders, but the public as well.
This also means that costings are more accurate and budgets can be more closely adhered to as there is less room for error or rework. It's also imperative as a project progresses through the design phase to have the visual aspect of its growth.
3.    Establishes a common data environment
A common data environment is a centralised place for digital spatial and non-spatial information to be stored. It allows users to create, view, analyse, share, and manage this data while maintaining its integrity.
Having this integrated data view enables users like project managers and designers to visualise and analyse information from a 3D perspective, as well as unearth new insights, trends, and relationships. This is essential for making accurate, well-informed decisions during the entire project life-cycle.
Integrating all asset data in a common GIS-BIM environment is a best-practice for data management – every project benefits from having a single-point-of-truth for all project data.
4.    Enables more effective data management and integration
It's important to utilise technology to obtain, create, and capture data that is fit-for-project-purpose. Existing data may be readily available from government agencies or from commercial operators (such as satellite imagery collectors).
Onsite data capture can be completed by conducting certified ground surveys, aerial inspections or using mobile technologies for field capture. Capturing this data and inputting into a geospatially-enabled design system enables users to instantly generate valuable outputs like advanced spatial analysis or design layouts.
In PDD's case, the different data sources could be integrated, managed, analysed, and then visually rendered against a backdrop of the BIM for project stakeholders, so that they could better understand and communicate what was being proposed. Conversely, BIM prevails as a rich source of data, which may be extracted through GeoBIM processes to enable other workflows and integrations.
5.    Markets units and manages expectations of new tenants
There are many sources to provide value-added data to potential tenants: This can range from staff using a lightweight interface to promote available units for rental to an interactive 3D walkthrough for realistic visualisation. 
The view from the unit can also be ascertained via line-of-sight analysis, while from outside-in, a unit's temperature levels at different times throughout the day can be predicted based on the direction of the sun and consequent shadows cast.
6.    Monitors, tracks, and manages building assets beyond project completion
The condition of a project's assets can and will be mapped and observed throughout their life cycle for full operational awareness. The information is easily transferrable from a heavy-duty engineering BIM file to lightweight location-aware platform for easy maintenance.
Facilities can be viewed from outside to in on the same user interface, allowing planners to analyse dependencies, decrease costs, make better decisions, and improve operational management. For example, a structured GIS database can be created to organise and maintain asset information and history, which gives facilities management officers easy access to locate assets due for servicing, inspection, or repair.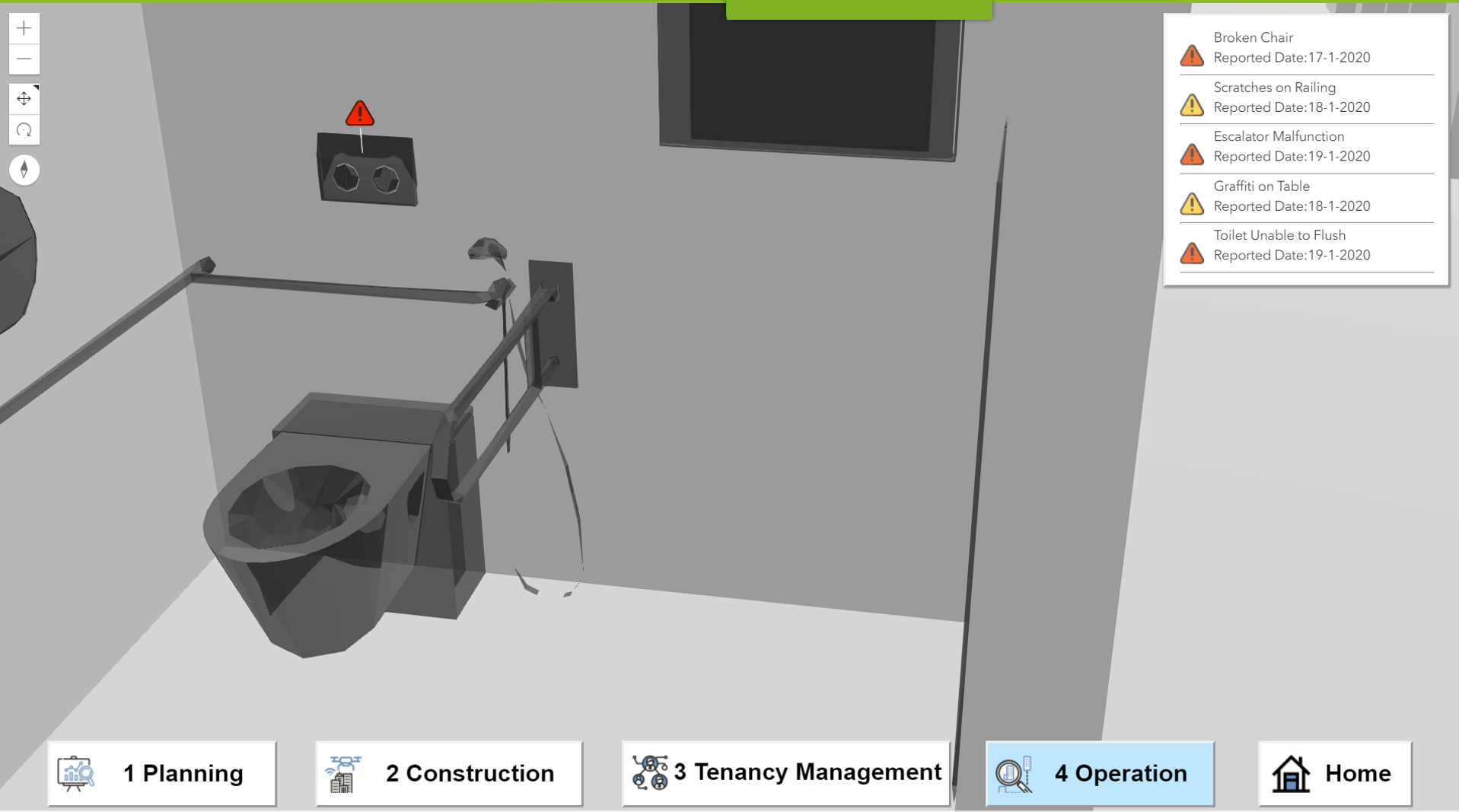 The details captured in the data can even be narrowed down to dimensions like height, which – through location-based analysis – can provide new insights into the cause of reported issues and how they may correlate in multiple dimensions.
Learn more about how other leading countries are leveraging on GeoBIM to create world-class infrastructure design here.