4 MIN READ
Picture this – first, one system that contains over 800 disparate data sets e.g., topographical maps, building locations, navigation routes, street views, terrains, locations of Neighbourhood Police Centres and police cameras.
Second, all these geospatial data from diverse sources 'stacked' on top of one another on one electronic platform. Third, users, in this case, the Police can look at this to get the 'big picture', and immediately identify crime hot spots, map crimes, deploy officers for emergency calls, and make data-driven decisions.
This is the Enterprise GIS (eGIS) system that presents geospatial data from diverse sources in an integrated manner to allow the Police to have better situational awareness and effect a quick and informed response. With thousands of real-time GPS data being ingested into the eGIS system every minute, Police get a real-time view of events as they happen and plan for resources, keeping the public and officers safe.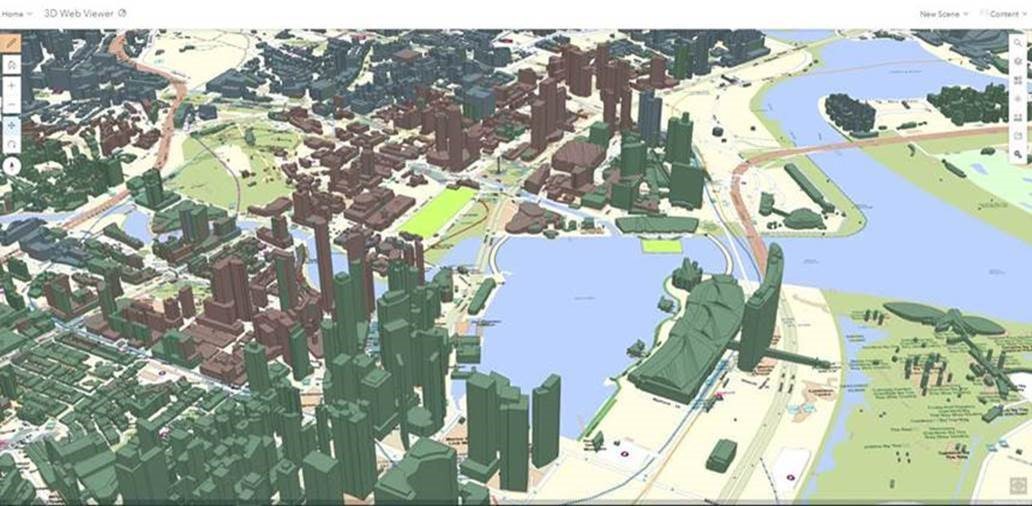 Said HTX Assistant Chief Executive Tay Yeow Koon, "With a quantum increase in data and information over the last few years, the Police required a system to help them see the data in a unified manner.
The eGIS enables police officers to be 'smarter', react faster, and make data-driven decisions to prevent, deter and detect crimes.
The eGIS platform also enables interconnectivity between systems, helps to develop new capabilities like blue force tracking, provides a visual context to location data and brings insights to the users with geospatial analysis and dashboards. Today, the eGIS exists as a map visualisation in Police command & control systems and other backend operational applications.
This is a collaborative effort of SPF and HTX. The team received the Esri Special Achievement in GIS Award in July 2020, for its innovative application of mapping and analytics technology. The team is the only one from Singapore to win this international award in 2020 out of over 300,000 candidates globally.
The eGIS is one of the enterprise-wide solutions that HTX worked hand-in-gloves with SPF as an integrated joint ops-tech team to conceptualise, plan and implement capabilities to achieve SPF's Capability Vision 2025 to safeguard Singapore.
"This project has also opened up opportunities to introduce the upcoming map hackathon (or internally known as SPF Mapathon) to proliferate the use of GIS among SPF officers to solve real-life problems at work", explains Bernard Phang, Director/Policing Programme Management Centre (PPMC).
eGIS Project team
Tay Yeow Koon – Assistant Chief Executive (Programmes)/HTX

Loke Wai Yew – Director Ops-Tech Department/SPF

Bernard Phang – Director, Policing Programme Management Centre/HTX

Edwin Lim – Deputy Director, Ops Department/SPF

Kua Choon Jin – Deputy Director/SPF

Benson Lim – Lead Engineer, Geo-spatial Technologies/HTX

Chia Hong Kai – Product Manager, Ops-Tech Department/SPF
Meet Benson Lim, Sarah Lee, and Muhd Fahmi – HTX's geospatial specialists from the Joint Capabilities Programme Centre (JCPMC). The three of them are involved in the end-to-end solution of the SPF eGIS system. From planning, consulting, maintaining the platform and using GIS software to analyse and interpret the information. Benson who is a Lead Engineer/JCPMC, also oversees 3D GIS, indoor location intelligence; Sarah is in charge of geospatial data and analysis while Muhd Fahmi handles mobile GIS and infrastructure.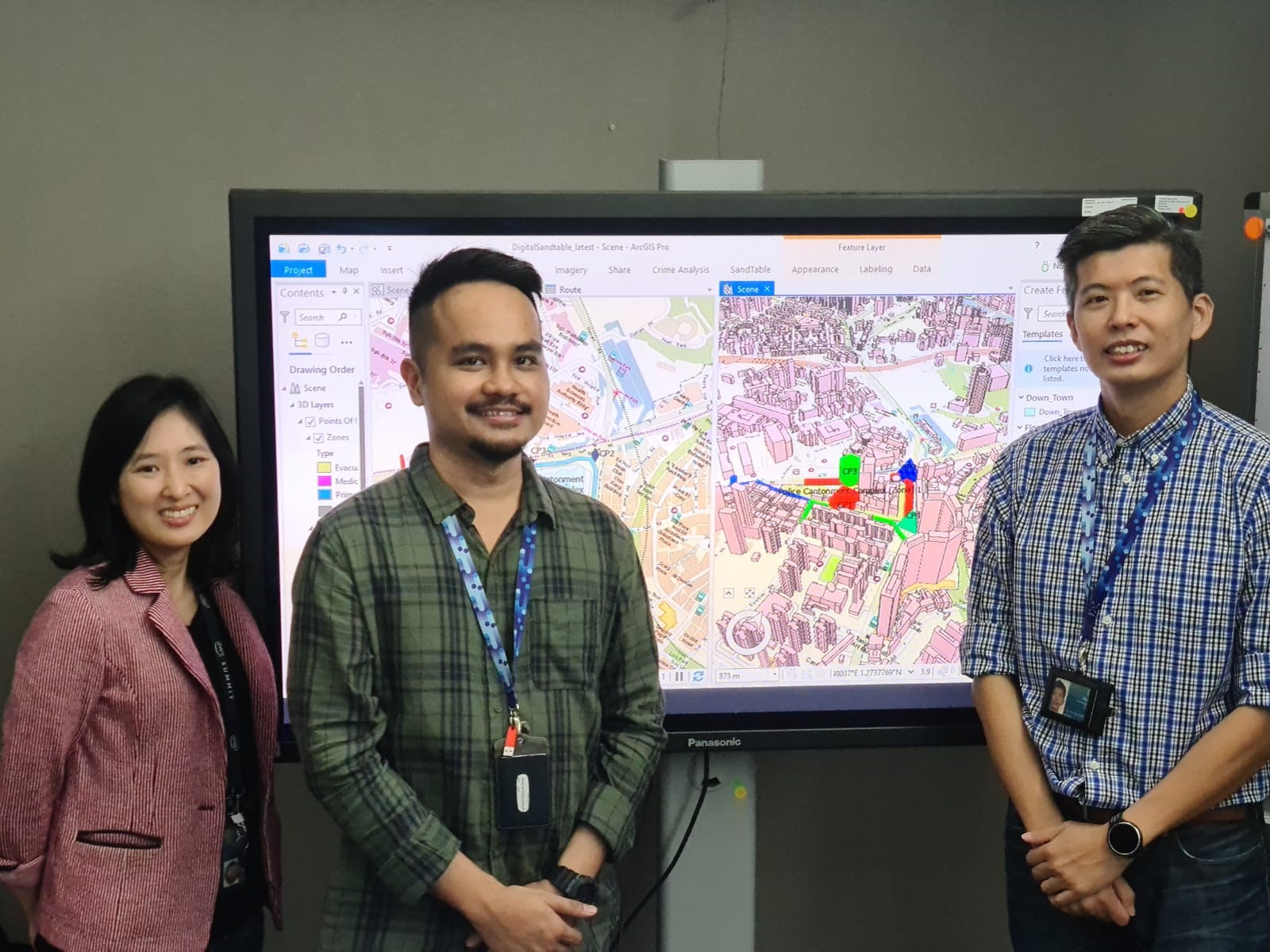 "The eGIS is just not a computer application; it is an ecosystem of platforms and people. The platforms present the available data and information visually but we still need the people who are trained in GIS to connect the dots, see the patterns and piece  them together to tell a story," says Benson Lim.
Developing the eGIS
Back in 2014, the team started an in-house prototype using a commercial-off-the-shelf product known as ArcGIS. The product was then adopted into SPF's operational environment as a backbone with a system integrator piecing together all the requirements to develop new capabilities. Along the way, new capabilities such as 3D geodata and line-of-sight analysis were introduced to provide a new visual perspective to SPF officers when planning for significant events such as the National Day Parade.  3D models of buildings, when used with line-of-sight analysis, allow Police to analyse and plan for any visual obstructions before going for site survey. A heatmap analysis tool in the system allows ground officers to determine the areas around Singapore they should concentrate on a daily basis.
Today, the prototype has evolved into an enterprise level platform serving 16 SPF systems and various users from SPF, SCDF and HTX. In addition to SPF, SCDF and CNB have also implemented their own eGIS platforms. However, with the ability to collect massive amounts of geospatial information, comes the need to interpret and apply that data – that is where HTX's experts play a vital role.
This article and its pictures were reprinted with permission by HTX. The original article can be viewed here.