4 MIN READ
As the local winner of the Esri Young Scholars Award, National University of Singapore student Yan Yingwei was given an opportunity to present his work at the 2016 Esri User Conference in San Diego, California.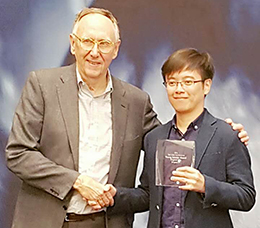 During the week, Yingwei met Jack Dangermond and other GIS visionaries, learned from GIS industry thought-leaders, and partied with thousands of spatial enthusiasts from around the world at San Diego's famous Balboa Park. He shares his highlights with us.
By Yan Yingwei
Friday 24 June
Following 24 hours of travel – from Singapore to Los Angeles via Beijing – I finally arrived at Santa Fe Depot in downtown San Diego. Stepping out from the train station, the sunny weather inspired me to take a detour to appreciate the fascinating seascape and USS Midway Museum, before I ventured to the Manchester Grand Hyatt hotel, where I received a warm welcome by the Esri Singapore staff.
Saturday 25
This was the day of the Esri Education Conference, and I could immediately feel the shared passion for GIS as soon as I stepped into the Marriott Marquis – the lobby buzzing with activity as people traded valuable experiences with each other.
The first session I attended was 'Geo apps: A new era of web maps', in which I learned how to make web applications for crowdsourcing. This session was of great use to me as my research interest is within the confines of volunteered geographic information (VGI).
After attending several other sessions, I finally met all the other 2016 Esri Young Scholars Award winners. It was such a nice community with very kind students from all over the world.
Sunday 26
Today was very exciting, with Professor Muki Haklay discussing citizen science – another area of my research. I also attended two other sessions – one on mobile field data collection using ArcGIS Online, and another centred around spatial data mining and space-time analysis. Both presentations inspired me to continue pursuing my research using VGI.
Monday 27
It was hard to believe I had almost reached the halfway point of my trip already – I had learned so much before the main event had even begun! Today marked the grand opening of the Esri User Conference – the plenary session. It was amazing, with so many great GIS projects from various fields presented to us.
The Map Gallery launch concluded the day, with every winning Esri Young Scholars project displayed in the exhibition hall. There, we had the opportunity to explain our research to visitors and network with fellow GIS enthusiasts. I was so glad that many people appreciated our work, and even took photos of our posters for further reading!
Tuesday 28
The fifth day was beautiful to me. I attended the first Esri Science Symposium, which was filled with compelling talks from great scientists. It was an honour to meet Michael F. Goodchild – considered by many as the father of GIScience – and Muki Haklay. I even got some selfies with them! I never imagined I would have the opportunity to meet these GIS giants from the scientific community. I felt so lucky and fortunate to be in San Diego.
In addition, I also attended several talks about JavaScript and Python technologies, which I learned a lot from.
Wednesday 29
Finally, I received my trophy, which was very beautiful. I was so excited to meet Jack Dangermond – Esri founder and president – who presented me with my award.
Many thanks to Esri Singapore for giving me the opportunity to meet some of the world's greatest geospatial visionaries. The experience proved invaluable and I'm now even more enthusiastic about a career working with GIS technology.
Thursday 30
This was the last day of the conference. Several sessions relating to disaster and emergency management interested me, and I enjoyed the research and best practice tips presented by experts from around the world.
However, the most exciting activity of the day was the UC closing party at Balboa Park. I loved the beautiful gardens, the food and the music. It was indeed an unforgettable night, and a fitting end to my time in San Diego.