3 MIN READ
The Housing & Development Board (HDB) received the Special Achievement in GIS (SAG) award in recognition of their cutting-edge iPLAN system, which underpins the agency's critical urban planning and design work areas.
The award was presented to HDB officials by Jack Dangermond, Founder and President of global mapping giant Esri, during the 2016 Esri International User Conference in San Diego, California.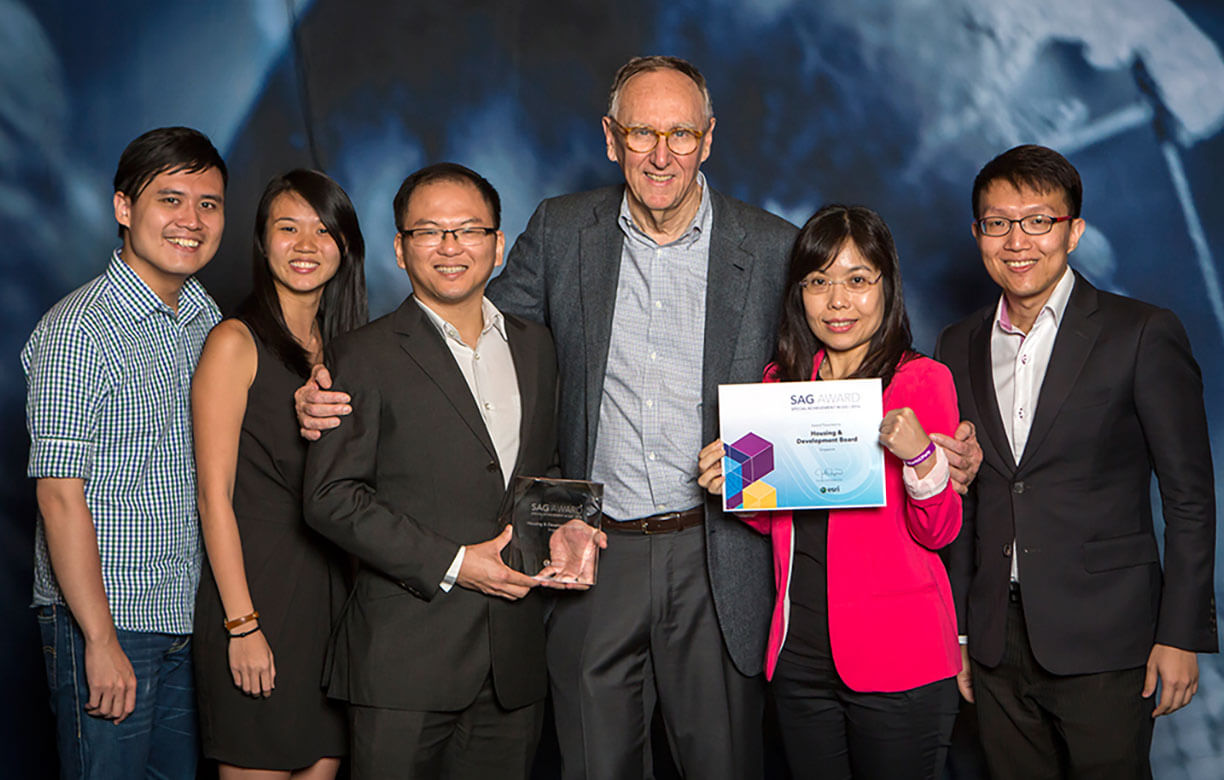 HDB was selected from a pool of more than 350,000 commercial and public sector organisations worldwide to receive the honour, which recognises the innovative use of Geographic Information System (GIS) technology to solve real-world challenges.
iPLAN (Integrated Planning & Analysis) plays an integral role in facilitating the design, promotion and development of Singapore's housing estates – acting as a crucial decision-making platform that helps HDB make informed choices and better assess the wide-reaching impact of their planning initiatives.
It allows users to map and explore different layers of geospatial data to analyse existing and proposed town developments and facilities within a certain area. The tool provides HDB's planners and architects with intuitive and effective access to up-to-date information, without the need to search through different data sources.
Prior to the implementation of iPLAN, the planning inputs used to be gathered through email consultations and past records before they were translated into plans for visualisation and analysis. Now data is captured within a single system and planners are able to retrieve development inputs instantly – translating to time savings and efficiency gains.   
HDB's Chief Executive Officer, Dr Cheong Koon Hean said, "HDB is honoured to receive the Special Achievement in GIS Award this year. This award is an affirmation of our efforts to adopt more innovative approaches which will improve the quality of our planning in a more productive way.  We will continue to improve our planning capabilities, and tap on innovative technologies to create more well-designed, sustainable and community-centric towns for our residents."
Esri Singapore CEO Thomas Pramotedham said the award is a recognition of HDB's commitment to create liveable communities in Singapore.
"HDB has been capturing spatial data and integrating it into applications since the early 1990s. Today, location information and GIS technology continues to enhance effective and efficient management of land information," Mr Pramotedham said.
"The use of GIS technology is only limited to our imagination. It has been a privilege to witness HDB's advanced use of this technology, and we look forward to seeing how it can further enhance the country's Smart Nation initiatives."
Moving forward, HDB plans to further develop the features within iPLAN to enhance town planning capabilities, to better anticipate and respond to future needs of the community.  
In 2015, the Land Transport Authority's data analytics programme – Planning for Land Transport Network (PLANET) – and the Municipal Services Office's municipal feedback management system –OneService@SG – received the SAG Award at the Esri User Conference in San Diego.
Solving rapid urbanisation to create a better living environment
Singapore Housing Development Board (HDB) Physical Planning Director Choo Chin Hua sits down at the Esri User Conference to discuss the benefits of iPLAN, and explains how advanced location-based analytics helps HDB manage rapid urbanisation and build liveable, sustainable communities.